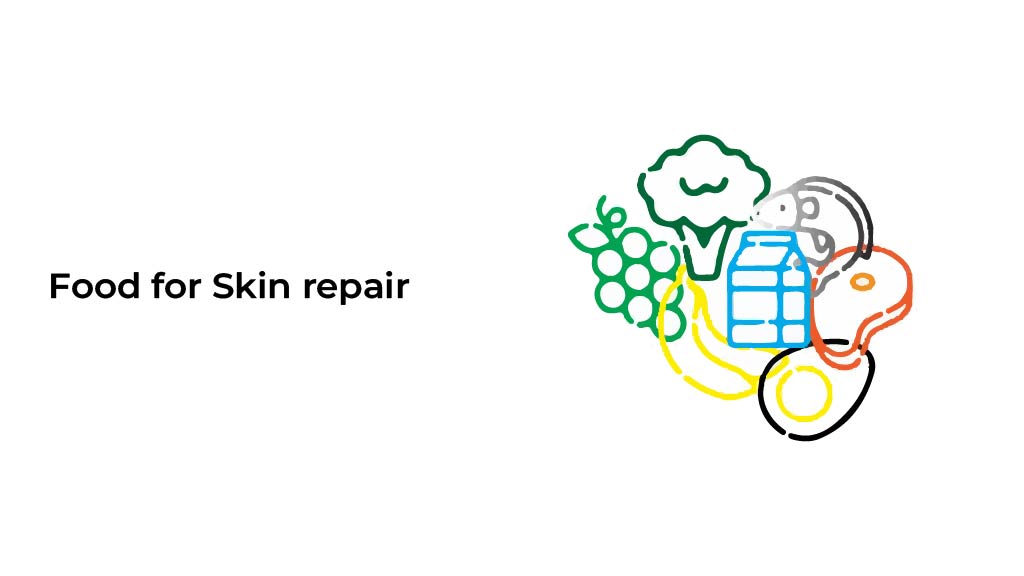 For glowing skin, you must change your habits. Wear sunscreen, eat the best and healthy foods, avoid beauty creams, etc. Change your eating pattern, choose healthy and superfoods. There are many options in grocery stores. Some options are;
Eat more fruits and vegetables
Cut down sugar and salt
Choose whole foods rather than processed foods
Drink more water regularly
Many dermatologists said that they choose foods that boost collagen production, fight wrinkles, improve complexion and give a healthy glow. You cannot stop yourself from aging, but you can control it.
Beneficial nutrients for skin
Omega-3 fatty acid
Antioxidants
Polyphenols
Vitamin C
Vitamin E
Foods for healthy, glowing skin
Add the bellow foods to your diet for healthy skin;
1. Flaxseeds
Flaxseeds are rich in ALA (alpha-linolenic acid), a type of omega-three fatty acid. Omega 3 fatty acids are good fat. They reduce the harmful effect of UV rays, smoking, and pollution. They can also reduce wrinkles and hydrate your dry skin. Flaxseed oil is best for smooth and scaly skin. Message by flaxseed oil makes your skin glowy.
2. Kiwi
Kiwi contains vitamin C, a powerful antioxidant that protects from free radicals. Kiwis are suitable for the skin. Studies showed that vitamin C might save your skin from UV rays, boost collagen production and give hydration. Ripened kiwi is rich in antioxidants. All citrus fruits have vitamin C, which is best for the skin.
3.  Avocado
Avocados contain two types of antioxidants, including Vitamin C and E. These vitamins, help protect your skin from damage. It also contains lutein and zeaxanthin, which may help improve skin tone. Avocados are rich in monosaturated fats, which allow your body to absorb many vitamins, like A, D, E, and K.
4. Collard, Kale, Spinach
Dark green vegetables are a nutritional powerhouse. You will get all types of vitamins from dark green vegetables, including lots of antioxidants that are best and super for the skin. According to My Pyramid Plate, three to four servings of vegetables are necessary. Some studies show that two to three servings of dark green leafy vegetables per week reduce cancer risk.
5. Yoghurt
Yogurt is packed with probiotics and protein. Probiotics are good to live bacteria that fight against inflammation; inflammation includes worsened skin conditions like acne, dermatitis, and psoriasis.  Probiotics can increase hydration and act as anti-aging. It also gives freshness to your skin.
6. Green tea
One cup of green tea daily is good for the skin. Green tea is rich in polyphenols, a class of antioxidants found in tea leaves.
Polyphenols good for;
Lowering oil from the body
Treat acne
It also contains flavonoids which help to repair DNA and reduce fine lines. It is best to heal blemishes and scars, flush out toxins, and keep skin hydrated.
7. Water
Drinking more water is the best strategy to make your skin healthy and glow. Especially good for dry skin. Must drink eight glasses of water daily for your overall body functions and healthy skin. You will also get some water from foods such as watermelon, cucumber, and celery; all have a high amount of water.
8. Olive oil
Oils are a regular part of our daily routine. Prefer to use olive oil because it contains antioxidants that fight against free radicals and inflammation. Olive oil reduces eczema and psoriasis. Two hundred plus types of chemical compounds are present naturally in olive oil.
9. Fish
Fish contains omega-3 fatty acid and co-enzyme Q10. Co-enzyme Q10 is a vitamin-like substance present in your body. It fights against free radicals that damage skin and help with cell growth. Many studies show that CoQ10 reduces fine lines and wrinkles and smoothens your skin. A poor diet, stress, and poor sleep can reduce CoQ10. Eat plenty of fish that contain CoQ10, including salmon and tuna. Free fatty acids in salmon serve as a building block for healthy skin.
10. Carrots
Carrots are rich in beta-carotene, which protects your skin from sun damage. Beta-carotene is found in colorful vegetables like mango, papaya, cantaloupe, pumpkin, and sweet potatoes. Carrots are also the best source of magnesium, which relaxes nerves and muscles. If you are not getting enough magnesium, it can lead to poor sleep, shut eyes, and dull your skin.
11. Nuts
Almonds, peanuts, and hazelnuts are the richest sources of vitamin E, which act as anti-aging. Vitamin E supports skin and boosts collagen production and prevents collagen destruction. It has a potent fight against cell damage caused by free radicals.
12. Tomatoes
Tomatoes are rich in lycopene, antioxidants that protect skin from UV rays. 3 tbsp of tomato paste daily gives 33% more protection from sunburn.
13. Oranges
Oranges are rich in vitamin C and water. Vitamin C reduces wrinkles, reduce dryness and act as anti-aging. Other vitamin C sources are strawberries, red peppers, grapefruit, etc.
14. Eggs
Eggs contain many essential nutrients, vitamins, and minerals. It is the highest source of protein. Protein-rich foods are building blocks of collagen. 30g of protein is required daily.
15. Milk
Milk is the best calcium and vitamin D source, essential for bone health. Milk provides nourishment to your skin. Vitamin D may prevent wrinkles and discoloration. Drinking milk gives a blush to your skin and increases collagen production.
16. Dark chocolate
Dark chocolate is best for skin firming. It contains flavanol, which is a potent antioxidant. Always choose dark chocolate with less sugar and cocoa.
17. Pomegranates
Pomegranate contains polyphenols that fight free radicals, regulate skin blood flow, and give a healthy glow. Seeds contain the best fiber, and natural fruit sugar gives no harm. It also adds a natural blush to your skin.
18. Kidney beans
Kidney beans are fibrous and protein-rich. And rich in zinc, it has healing properties that fight against free radicals and improve your skin. It also treats acne worsen scars.
More tips for better and healthy skin
Good nutrition
Night sleep
Wear sunscreen with SPF
Stay active
Reduce stress
Avoid smoking
Adopt healthy lifestyle
Drink more water
Reduce excessive exposure to the sun
Don't sleep with makeup
Avoid long hot showers
Avoid alcohol
Apply skin moisturizers
Eat a balanced diet
Apply aloe vera
References:
https://www.eatthis.com/ foods for better skin /

https://www.webmd.com/beauty/ss/slideshow-skin-foods

https://health.clevelandclinic.org/23-foods-good-skin/

https://gilbertmedspa.com/how-to-repair-reverse-skin-damage/

https://www.annmariegianni.com/how-to-repair-damaged-skinnaturally/