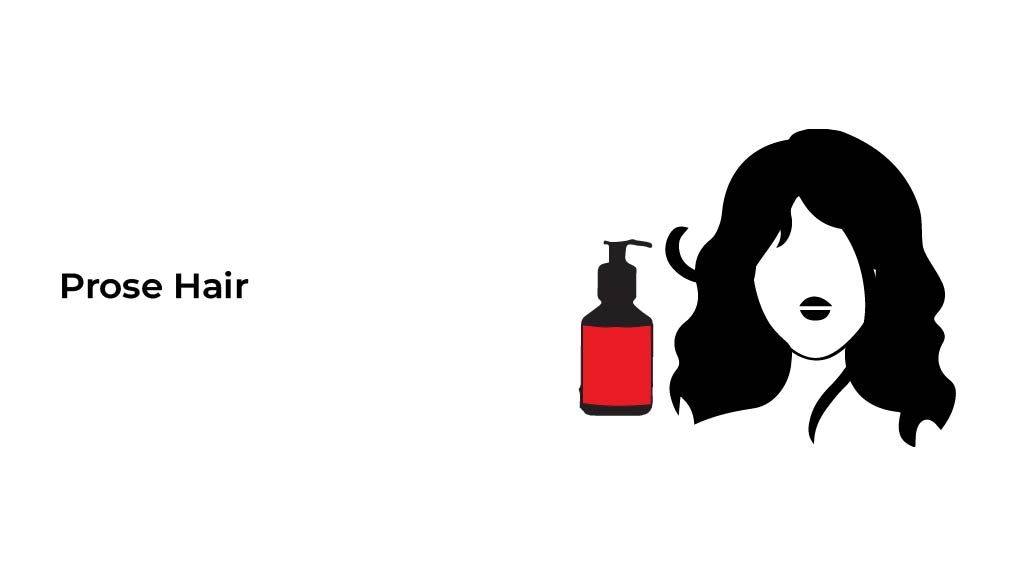 The Prose is a hair care brand used to solve hair problems of all hair types and textures; silky, curly, treated, or colored. It gives an option to create a custom selection of products based on an online quiz. Prose takes consideration from dandruff to oily scalp. It promises to assume all responsibility and helps to tackle every hair issue. Each product is safe, cruelty-free, sulfate-free, paraben-free, and sustainable. Once you complete the consultation quiz online, the products are recommended to you based on your response, like shampoo, condition, haircare, brush, etc.
Prose Hair Shampoo
A gentle, sulfate-free shampoo provides everything from nourishing your hair roots to hydrating your hair. The hair products are recommended depending on your hair type and texture. The instructions are engraved on every product (on a separate piece of paper) for the product's understanding and application. The products are unique and customized (especially designed) for you. Shampoo and conditioner are luxurious and make your hair clean & fresh with every single wash.
Prose Haircare
Choosing what is best for your hair is complicated when there is a lot to consider, like texture, style, oil level, and hair length. Besides,  lifestyle, diet, hair treatment, and habitat can also be considered. It is challenging to recommend a product suitable for one person to another due to the various variables affecting you daily. Prose haircare product is not only customized but also gives the desired results in your daily routine. It asks the customer for a consultation quiz before recommending a product to make the experience unique and reliable. This part is entertaining, informative, and comprehensive. Prose hair shampoo, conditioner, oil, and dry shampoo are luxurious and are rich supplements for hair growth and scalp balance.
Prose Hair Brush
Brushes are essential because one size does not fit everyone. For detangling your hair and getting the exclusive benefits of brushing your hair, choose your hair brush wisely according to your hair type. Different hair brushes are designed for every hair type. Every inch requires particular bristles. There are the following types of bristles;
Boar
Agave
Boar and Nylon
Tripped metal
Hair is vulnerable when tangled. The choice of brush can make your hair feel gentle and protected. Detangling your hair and choosing the best hair brush can make your hair alive and reduces the significant risk.
Benefits of Prose
Prose prevents Hair loss: Prose haircare pack comprises extracts, oils, minerals, and vitamins to nourish your hair. Prose also includes supplements to treat hair problems internally and externally. Every product is reliable and clinically approved.
Prose for thickening Hair: The products contain ingredients that promote hair growth and protect against hair loss. It makes hair thicker and denser with time. The best results can be achieved when Prose is paired with thickening treatments like;
Scalp massage daily
Volume increasing products
Hair thickening products
Repair Damage: Prose also helps repair damage from heat styling and heat waves from the sun. It is beneficial for protective measures. The Prose is unique and reliable because;
Prose uses silicone which is water soluble.
Products are novel and formulated for the treatment of particular hair problems.
The formula of product manufacturing is clean and safe.
Prose provides subscription services.
The best-recommended haircare products of Prose are;
Custom root source
Custom pre-shampoo mask
Custom hair oil
Challenges of Prose
Every beneficial product comes with certain disadvantages and challenges. Likewise, Prose has various challenges;
Products may not suit you.
The Prose is expensive.
Products are not readily available.
References
https://www.curlcentric.com/does-prose-help-with-hair-loss/#:~:text=switching%20to%20Prose.,How%20Prose%20Helps%20with%20Hair%20Loss,What%20is%20this%3F&text=They%20also%20carry%20hair%20supplements,loss%20both%20internally%20and%20externally.
https://www.refinery29.com/en-us/prose-custom-hair-care-review
https://www.purewow.com/beauty/prose-hair-reviews#:~:text=Prose%20is%20a%20haircare%20brand,can%20help%20combat%20those%20issues.
https://prose.com/?irclickid=ySqzDHwYrxyNTgFUYoRGqWUNUkDVy1w9aRsb000&ircid=11046&utm_campaign=Linkby&utm_source=impact&utm_medium=affiliate&utm_content=&utm_term=2385908&irgwc=1&nb_platform=impact&nb_adid=1220456&nb_cid=11046&nb_pid=2385908&nb_aname=Get%2015%25%20Off%20%26%20Free%20Shipping%20on%20every%20order%20when%20you%20Subscribe%20&nb_atype=TEXT_LINK&nb_asize=&nb_product_sku=&nb_partner_name=Linkby&nb_mtype=mediapartner&nb_partner_shared_id=
https://prose.com/blog/detangling-brush.php