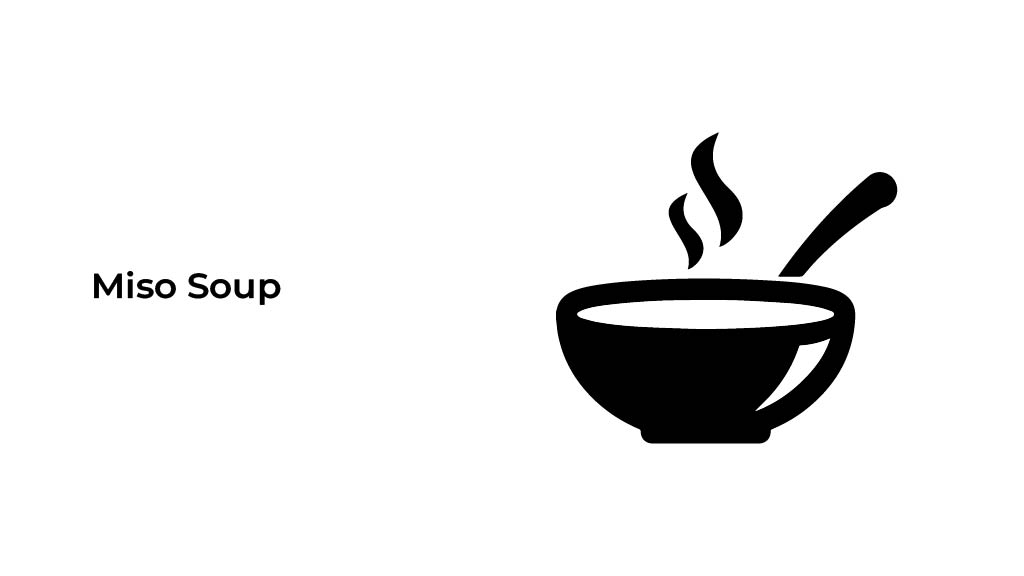 Miso soup is originated in China and later introduced in Japan. Miso soup is a traditional Japanese soup consisting of a dashi stock and softened miso paste mixed.
Dashi is a Japanese soup stock that added in many Japanese dishes for essence of authentic flavor.it is made up of cold brewing kombu, while creating a strong version by squeezing the flavor out of bonito flakes, dried sardines, dried shiitake mushroom, dried scallop, dried shrimp, adzuki beans and toasted soybeans.
Miso paste is a traditional Japanese seasoning produced by fermented soybeans with salt and koji and sometimes rice, barley, seaweeds or other ingredients.
How to make Miso Soup?
This is very simple 15 minutes recipe, cooked in 1 pan. Begins with heating vegetable broth. The miso paste whisked into a little hot water to get the clumps out. The result is a smooth and liquid paste that gets added once in soup is removed from heat and set aside.
Next the chard, green onion, nori(dried edible seaweeds) and tofu are cooked in the broth briefly. Then its time to remove from the heat, add in the miso, taste test, and adjust the saltiness.
And that's it!
We hope you also love this soup! It's:
Savory

Comforting

Flavorful

Customizable

Loaded with greens
Nutritional Information:
One serving of miso soup contain;
Calories: 40

Calories from fat: 14

Total fat: 2 grams

Saturated fat: 0 grams

Trans fat: 0 grams

Cholesterol: 0 grams

Sodium: 0.86 grams

Total Carbohydrates: 3 grams

Dietary Fiber: 0 grams

Sugar: 0 grams

Protein: 3 grams
Miso soup is an excellent source of;
Vitamin K

Manganese

Copper

Zinc

Calcium

Iron

B Vitamins

Magnesium
Health Benefits
Miso soup is a rich source of vitamins and minerals as well as probiotics, known as good bacteria.
Improve Digestive System:
Miso soup is full of probiotics, which contribute to improve gut health. Miso soup contain probiotic A. oryzae, which can reduce the risk of inflammatory bowl disease and other digestive problems. Miso fermentation helps improve the body's ability to digest and absorb foods. The condiment also contains probiotics that can promote gut health and digestion.
Reduce risk of heart diseases:
Miso soup may reduce the risk of death from heart attack. It may help to reduce bad LDL level of cholesterol. Soybeans in miso soup have isoflavones, which lower the risk of heart problems. One study show that higher level of isoflavones correlated with lower risk of strokes and heart attacks in some Japanese women.
Reduced risk of cancer:
According to a study, miso had a preventive effect against radiations injury, cancer and hypertension. A report published in US Journal National Cancer Institute states that frequent consumption of miso soup may be associated with reduced risk of breast cancer, abundant isoflavones in miso soup have preventive effect. One study show that daily consumption of soybeans was correlated with reduced risk of stomach cancer. Another study show that consuming miso soup and soy foods may reduced risk of hepatocellular carcinoma, a liver cancer.
Reduce menopause symptoms:
Miso soup and soy foods contain powerful antioxidants, which particularly effective in reducing hot flashes. Isoflavones also improve arterial health in women. It is also good for bone density and for treatment of osteoporosis.
Supports Immunity:
Miso is a type of fermented paste made from soybeans, which is rich in probiotics and several other ingredients that support immune functions, including manganese and zinc.
Miso soup is a wonderful remedy for cold and flu. Because it contain phytochemicals such as antioxidants and anti-inflammatory agents.
Brain Builders:
Choline and B vitamins such as niacin and folate which support cognitive functions and development. B3. B5 and B9 supports the nervous system to function properly. B vitamins also provide energy to body.     
References:
https://minimalistbaker.com/15-minute-miso-soup-with-greens-and-tofu/
https://www.webmd.com/diet/miso-soup-good-for-you
https://www.goodhousekeeping.com/health/diet-nutrition/a33949065/miso-health-benefits/